About Linsky
Contact Us
+86 21 57456563
+86 21 57456583
inquiry@linskyice.com

Quality System
Quality System
Home > Quality System
"We adhere to strict standard of high quality for remarkably cooling performance."
Our inspectors test-run each machine for 30 to 70 hours nonstop to make sure there are no glitches. And components from leading suppliers such as Siemens, Bitzer, Danfoss and Schneider guarantee that our products can be used for as long as 10 years. We also conduct inspections at all levels of production- from the sourcing of raw materials to the final packaging stage.
Our strict QC system and advanced testing equipments enable our products to meet the international standards. We are always enhancing and optimizing our quality control to guarantee our customers' benefits.
To ensure top quality, all our products are under strict quality control as follows: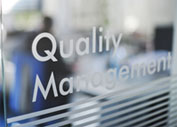 Every batch of raw materials can accede to manufacturing only after strict check.
Every product design & quality is precisely made according to the customers' requirement.
We are doing commodity inspection for every unit of exported products. We also cooperate with the third parties such as SGS, CTI and other international inspection agencies to obtain accurate quality information. And then we optimize our research, development and manufacture process if necessary.
Taking inspection on-spot for each shipment when loading
Because of our commitment to quality, you will be pleased to know that our factory production base has been certificated with ISO9001-2008 and ISO14001-2004 and CE approved.
Copyright © All rights are reserved by Linsky• Formulate future since 2004