Accessory
Contact Us
+86 21 57456563
+86 21 57456583
inquiry@linskyice.com

Water Chiller
Modern industry technology has stricter standard in processing temperature control. Generally speaking water-cooled methods (natural water and cooling tower) are inevitably influenced by environment temperature, therefore the temperature control is quite unstable making it difficult to control the water temperature for the high-precision and high efficiency purpose.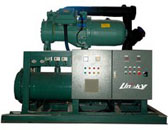 Linsky water chiller is different from ordinary water-cooling equipment. They have completely independent refrigeration system without any effect of environment and temperature. Water temperature is controllable and adjustable hence high precision and high efficiency can be achieved. The independent water circulation system inside water chiller can cycle the water continuously which conserves much water.
Linsky industry water chiller is of high quality, easy to operate and with options available, which also can be tailor-made according to client's requirement. Efficient water chillers are essential for modern industrial production because they can increase production efficiency, improving product quality and lower production cost etc.
Industrial Water Chiller Applications
Electronic industry: Stabilize the internal molecular structure of electronic components in the production line to improve the pass rate of electronic components; used in ultrasonic cleaning industry, effectively prevent costly volatile of cleaning agent and the harm which brings to human
Electroplating industry: Control plating temperature, increase the density and smooth of plating, shorten electroplating cycle, increase productivity and improve product quality
Mechanical industry: Control hydraulic system pressure oil temperature, stabilize the oil temperature and oil pressure, prolong oil service time and improve the efficiency of machinery lubrication and reduce friction.
Plastics industry: Accurate control of various plastic processing mold temperature and ensure the stability of product quality.
Chemical fiber industry: Keep air dry and ensure product quality.
Vacuum coating: Control the temperature of vacuum coating machine to ensure high quality plating.
Building industry: Supply cooling water to concrete, which effectively enhance the hardness and toughness of concrete and make concrete molecular structure suitable for construction condition.
Food industry: Rapid cooling in food processing to fit for packaging requirements, in addition, control the temperature of fermented foods.
In addition, this also applies to the die-casting equipment, ultrasonic cleaning cooling, printing, biology, vegetables, pharmaceuticals, flowers, gardening, and other related industries. It can precisely control the temperature of the industrial modern mechanized production required, thus greatly improving production efficiency and product quality.
Water Chiller Working Principle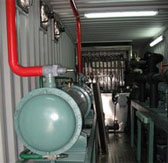 Linsky water chiller can produce cold water at constant temperature, constant current and constant pressure. No matter how low the outlet water temperature and no matter the temperature difference, Linsky can provide a complete cooling solution by using 4 stage cooling method.
1st stage cooling: evaporative condenser is used to lower the temperature of nature water. The first cooling stage can reduce tropical high temperature water of 45 ℃ above to 36 ℃. Little power is consumed, but a good cooling effect can be achieved;
2nd stage cooling: plate or shell evaporator, water can be reduced from 36 ℃ to 15 ℃, evaporation temperature controlled at 10 ℃, higher evaporation temperature, the compressor has a good energy efficiency, COP. / EER. can achieve to 4.2kw/kw;
3rd stage cooling: plate or shell evaporator, water can be reduced from 10 ℃ to 4 ℃, using a constant evaporating pressure regulating valve +0.5 ℃ evaporating temperature, so as to obtain a higher temperature difference in the evaporator that ensures good heat transfer effect and the evaporator will not be frozen to crack;
4th stage cooling: unique open-type dipped plate evaporator with gas anti-freezing technology completely prevents itself from frozen crack; constant evaporative pressure adjective valve control -5℃evaporative temperature which can lower the water temperature from 4℃ to 0.5℃
Linsky Water Chiller Features
Stable Performance: the use of imported famous brand compressor, built-in security protection, and low noise, power efficient and durable.
Compressor energy regulation, the cooling capacity of the compressor can be adjusted according to the water temperature.
Electronic expansion for the fluid, precise control for liquid gas back pressure of the compressor according to the temperature.
Leading Technology: failure alarm, self-test, the signal output, temperature monitoring at all levels can be linked with the host.
Energy efficient: the actual situation customized grading cooling, improve the evaporation temperature, the compressor group get changed EER.
Highly accurate: with imported precision digital display temperature controller can precisely control the temperature.
Safety and stability: the electrical part of the famous brand products are used to ensure the long life of the machine is stable, safe operation.
Easy maintenance: anti-static spray enclosure, Europe design, elegant, easy to disassemble the outer plate, easy to use and maintain.
If you are interested in Linsky water chiller, please contact our sales person for further information.
Copyright © All rights are reserved by Linsky• Formulate future since 2004