Plate Ice Machine
Contact Us
+86 21 57456563
+86 21 57456583
inquiry@linskyice.com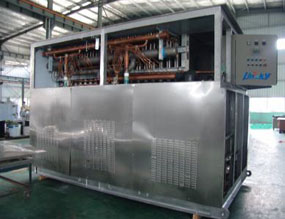 Evaporator is made by advanced laser welding processing technology, solid and durable;
Speedy ice doffing process. No extra heat needed, by using hot freon gas itself produced it melts the ice to fall. The whole process only takes 120 seconds;
Unique water circulating system. After ice is doffed, the un-frozen water collected in the low water tank will be recycled to make ice. It is energy sufficient design but increase the ice production;
SUS304 or aluminum alloy evaporator plates complies to hygiene requirement;
Ice forming time can be controlled to adjust the thickness of ice;
Plates quantities can be modified to suit your various ice demand.
Specification of Plate Ice Machine LIP-240
Item
Specification
Unit
Power supply
380V/3P/50Hz
Voltage/Phase/Frequency
Refrigerant
R22/R404A
Daily capacity
24000kg/day
Cooling mode
Water-cooled
Standard condition
Ambient temperature
35
℃
Water inlet temperature
25
℃
Operating power
Compressor
50.2X2
kw
Condenser fan
2.2
kw
Cooling tower pump
5.5
kw
Ice crusher device
2.6
kw
Cooling water pump
2.8
kw
Heated water pump
1.1
Average total
108
kw
Total install power
125
kw
Compressor
Refrigeration capacity
103.5X2
kw
Condensing temperature
38
℃
Evaporating temperature
-20
℃
COP.
2.06
kw/kw
Horse power
60x2
HP
Compressor module
Size
2700×2200×2191
(L×W×H)(mm)
Net weight
2560
kg
Evaporator module
Size
4403x2150x2450
(L×W×H )(mm)
Net weight
3450
Kg
Pipe size
1"
inch
Water supply pressure requirement
1~6
bar
Cooling tower module size
Cooling tower size
∅2650x2645
(O.D.×H)(mm)
Feed pipe size
1''
inch
Cooling water pipe size
4''
inch
Operating weight
1300
Kg
Parts info
Compressor
Bitzer, Germany
Expansion valve
ALCO, United States
Stop valve
DANFOSS, Denmark
Solenoid valve
DANFOSS, Denmark
Filter
ALCO, United States
Button/indicator
Schneider, France
Electrical
Schneider, France
PLC
SIEMENS, Germany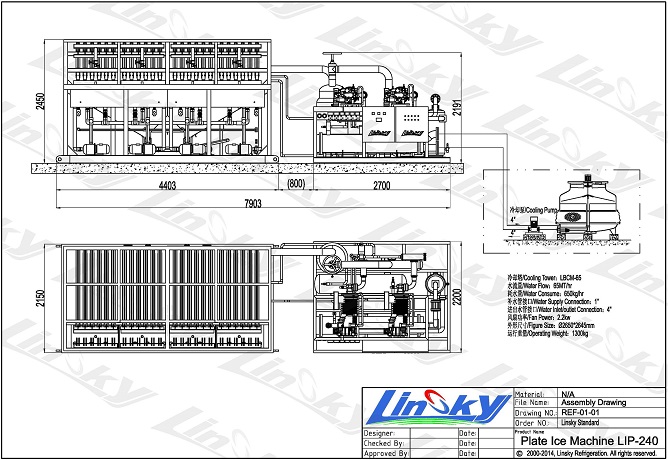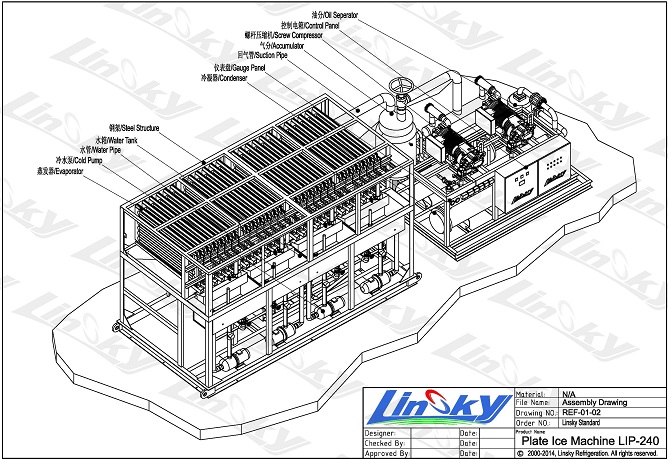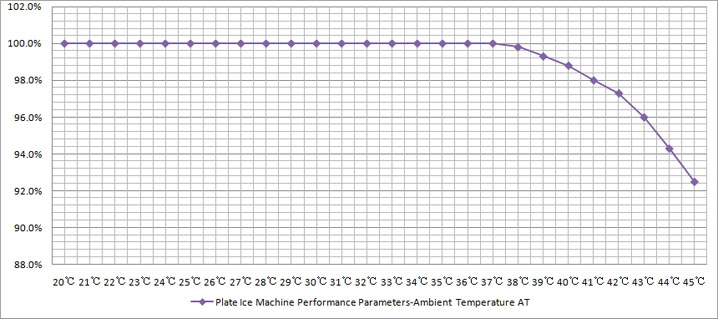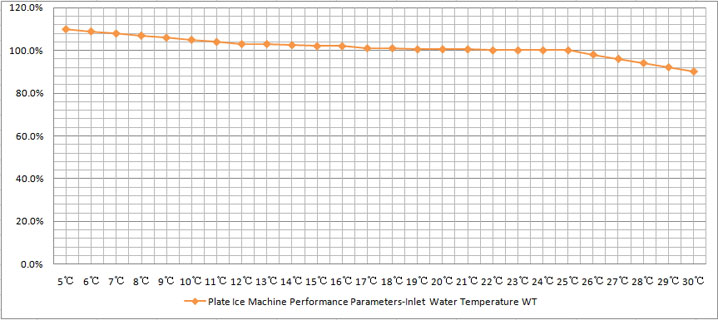 Note: Actual Production= Theory Production×WT×AT
Linsky ice machine production will be affected by environment. The main factors are ambient temperature and water inlet temperature. Based on long term actual experiment, Linsky records precise experiment data and conclude chart WT and AT.
When water inlet temperature exceeds 30℃, it is suggested to pre-cool the water by chiller.
When ambient temperature exceeds 45℃, it is suggested to use water-cooled condenser or tailor made your machine.
► Linsky Large Capacity Plate Ice Machine
Copyright © All rights are reserved by Linsky• Formulate future since 2004