Tube Ice Machine
Contact Us
+86 21 57456563
+86 21 57456583
inquiry@linskyice.com
Large reservoir collect heat to defrost ice, ice harvesting time only takes 120 seconds;
Use stainless steel ice blade without ice stuck headache;
Adopts Danfoss scroll compressor making refrigeration system more stable and reliable;
The shell is made of SUS304 and bended by CNC cutting machine, upscale, elegant and hygiene;
Ice machine automatically stops and resets itself when ice is full in its ice bin;
Variable frequency controls high pressure, it is more energy saving and will not be affected by environment temperature.
Specification of Tube Ice Machine LIT-150KA
Item
Specification
Unit
Power supply
220V/1P/50Hz
Voltage/Phase/Frequency
Refrigerant
R404A
Cooling mode
Air-cooled
Standard condition
Ambient temperature
35
℃
Water inlet temperature
25
℃
Operating power
Total running power
800
W
Install power
1000
W
Main parameters
Capacity
150
Kg/day
Ice storage capacity
100
Kg
Net weight
95
Kg
Dimension
700×750×1250
(W×D×H)(mm)
Water supply pressure requirement
1~6
bar
Parts info
Compressor
ASPERA, Italy
Condenser fan
EBM-Germany
Expansion valve
DANFOSS, Denmark
Dry filter
DANFOSS, Denmark
Solenoid valve
DANFOSS, Denmark
Water solenoid valve
SAGINOMIYA, Japan
Pump
MORRILL, United States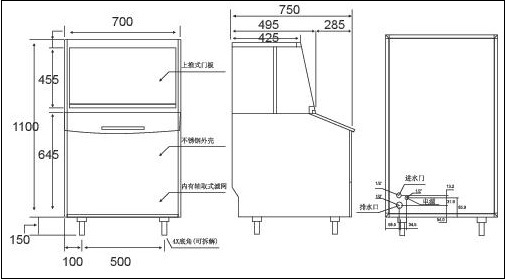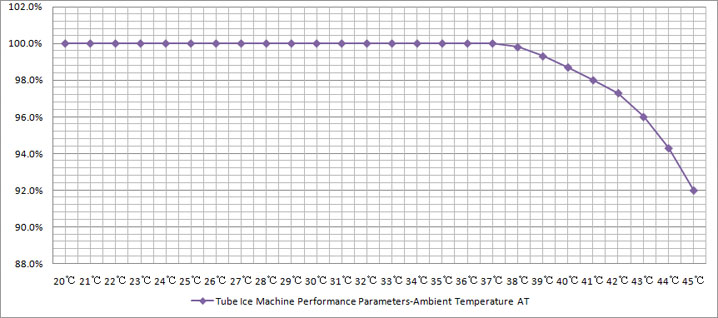 Note: Actual Production= Theory Production×WT×AT
Linsky ice machine production will be affected by environment. The main factors are ambient temperature and water inlet temperature. Based on long term actual experiment, Linsky records precise experiment data and conclude chart WT and AT.
When water inlet temperature exceeds 30℃, it is suggested to pre-cool the water by chiller.
When ambient temperature exceeds 45℃, it is suggested to use water-cooled condenser or tailor made your machine.
Copyright © All rights are reserved by Linsky• Formulate future since 2004