Block Ice Machine
Contact Us
+86 21 57456563
+86 21 57456583
inquiry@linskyice.com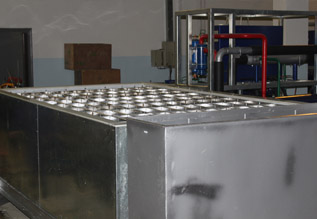 High quality components guarantee the stable refrigeration system;
Unique and excellent evaporator technique ensures efficient heat transfer effect;
Heavy-duty overhead crane for moving, lifting and tipping the ice cans;
Ice can options of galvanized steel or stainless steel;
Modular design ensures easy installation, operation and maintenance;
Experienced team of installation and commissioning.
Specification of Block Ice Machine LIB-30B
Item
Specification
Unit
Power supply
380V/3P/50Hz
Voltage/Phase/Frequency
Refrigerant
R22/R404A
Daily capacity
3000kg/day
Cooling mode
Air-cooled
Standard condition
Ambient temperature
35
℃
Water inlet temperature
25
℃
Operating power
Compressor
9.56
kw
Condenser fan
1.2
kw
Pump
0.35
kw
Average total
13.5
kw
Total install power
16
kw
Compressor
Refrigeration capacity
24.1
kw
Condensing temperature
45
℃
Evaporating temperature
-18
℃
COP.
2.52
kw/kw
Horse power
15
HP
Ice size range
Weight range
10~100
kg
Thickness range
100/125/160/220
mm
Height range
600/800/1000
mm
Ice specification
Dimension
340×125×750
(L×W×H)(mm)
Weight
25
kg
Ice quantity
42
pc
Harvest times
3
times/day
Period
Ice making time
8
hr/time
Ice defrost time
10
min/time
Ice machine dimension
Size
5419×1437×2871
(L×W×H)(mm)
Net weight
2788
kg
Pipe size
3/4''
inch
Water supply pressure requirement
1~6
bar
Parts info
Compressor
Copeland, United States
Expansion valve
ALCO, United States
Stop valve
DANFOSS, Denmark
Solenoid valve
DANFOSS, Denmark
Filter
ALCO, United States
Button/indicator
Schneider, France
Electrical
Schneider, France
PLC
SIEMENS, Germany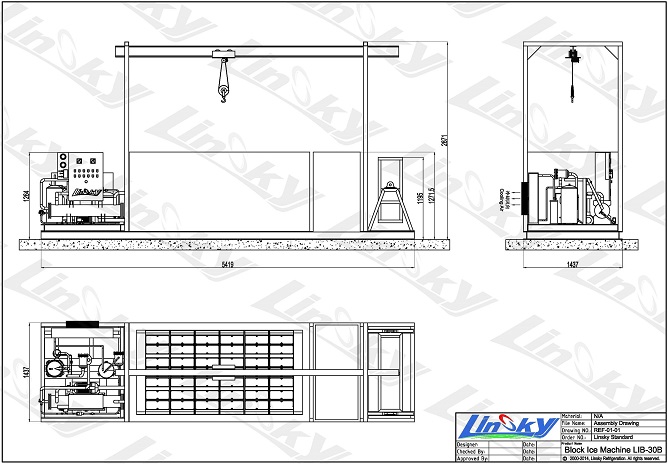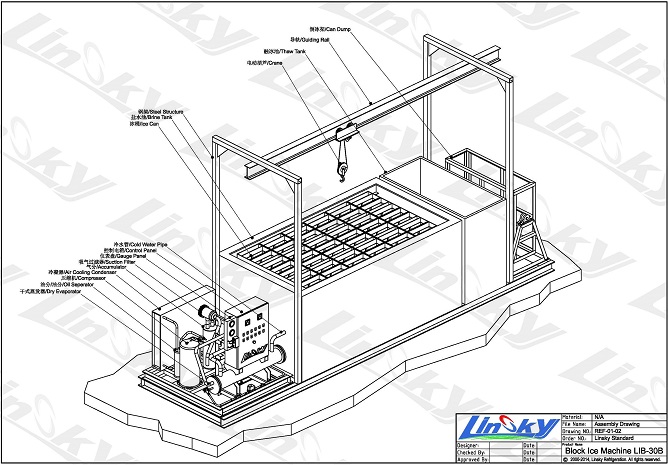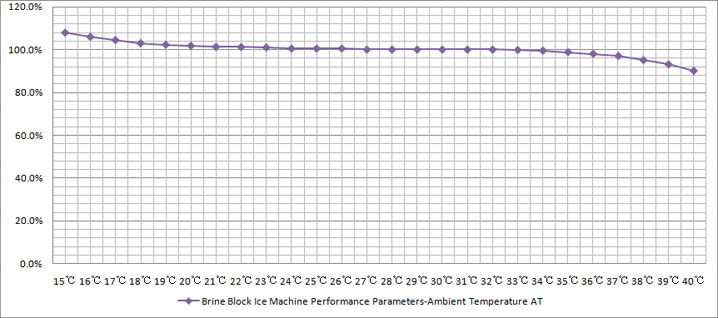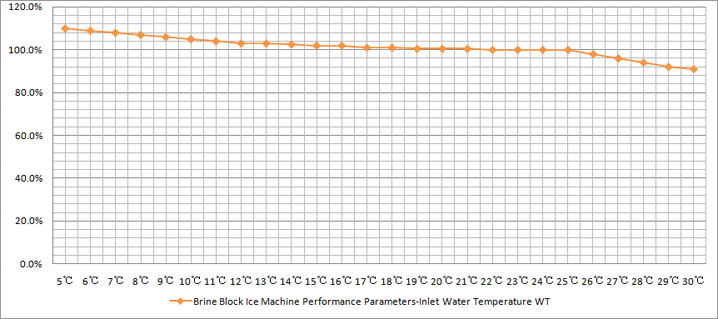 Note: Actual Production= Theory Production×WT×AT
Linsky ice machine production will be affected by environment. The main factors are ambient temperature and water inlet temperature. Based on long term actual experiment, Linsky records precise experiment data and conclude chart WT and AT.
When water inlet temperature exceeds 30℃, it is suggested to pre-cool the water by chiller.
When ambient temperature exceeds 45℃, it is suggested to use water-cooled condenser or tailor made your machine.
Copyright © All rights are reserved by Linsky• Formulate future since 2004